This weekend's instalment of 'Two minutes with…' comes from the point of view of Plymouth fan, Sam.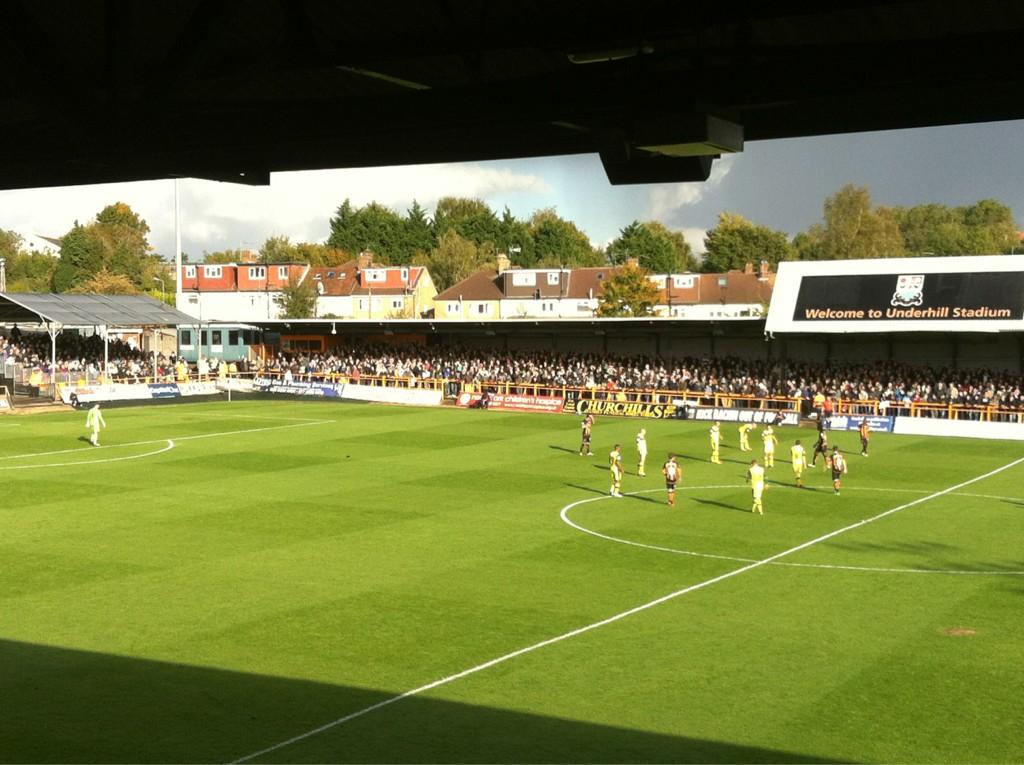 Had you been to Underhill before?
Nope, this was my first visit! I always look forward to visiting grounds I haven't yet been to and going to Underhill was no different.
How did you get to the game?
I stayed at my girlfriend's house in Stoke-On-Trent for the weekend, so I travelled by train to Barnet. It was a relatively straight-forward journey, although we got a little lost between Euston station and Kings Cross on the way there!
Whereabouts in the ground did you sit/stand?
I was in the North-East terrace. With a low roof, us travelling Argyle fans found it easy to kick up an atmosphere in there!
What did you make of the game?
Well, as we won 4-1, I obviously enjoyed it! I think the referee had a bit of a nightmare when he awarded us that penalty, but apart from that I thought we played very well and deserved the three points. I also thought your fans were very loud and proud early on, but our two early goals killed the atmosphere in the home end a bit.
Who (from either side) do you think deserved to be man of the match?
For Argyle I would say Paris Cowan-Hall. He was a constant menace to the Barnet defence with his pace and agility and fully deserved his goal. He has had a slow start to his Argyle career since joining from Woking this summer but is starting to come into his element of late.
Man of the match for Barnet for me was Ricky Holmes. Without being too disrespectful he was the only player in the Barnet team that really looked like opening our defence up. I imagine our right-back, Durrell Berry, breathed a sigh of relief when Holmes had to go off injured. He struggled to get to grips with him all game.
Was the score line a fair reflection on the game?
Without a shadow of a doubt, yes. Apart from a shaky ten minutes after we conceded we totally controlled the game. The three goal winning margin was fair and on another day we could have had more. I was initially worried we would let the two-goal lead slip after Barnet pulled one back as we lost composure for a while, but other than that we deserved the win.
Who do you play next, and how do you think you'll get on?
We have Rochdale at home, which will be a tough game as they are flying quite high in the league. Our away form has been significantly better than our home form this year, but with our victory over Aldershot in the JPT followed by this win at Barnet I would like to think we can improve on our home record and get something against Rochdale. If we take our form and confidence into the game against Dale I reckon we could sneak a win.
£13 is a reasonable price, can't really complain. Won't get many grounds that are cheaper than that for my age group in this division
–––
8/10
.
I bought a programme for £3 which seems to the going rate for a match day read these days in League Two – good content that kept me entertained at half time! I also purchased a bottle of coke that turned out to be 50p more expensive than advertised in the sign!
–––
7/10
Despite being very low down it was quite good. Always find it odd having the away 'end' on the side of the pitch but the view of the action was not impeded in any way
–––
10/10
By Argyle 9/10. By Barnet 3/10. Sorry, you were pretty dismal!
––– 6/10
Even if I ignore the result, I really enjoyed my trip to Underhill. The stewards were helpful and your fans were friendly
–––
10/10
As a side note, I really do hope you stay up again this year. I have come to enjoy your annual great escape from the clutches of relegation season upon season and I would not be surprised if you pulled the rabbit out of the hat again this time around too. As I found out today you are a friendly club with friendly fans. All the best for the rest of the season.