17th in League Two – "Disappointing, stressful, forgetful"
We haven't lost any key players this summer. With Gary Rowett having been given the Burton job permanently not long after the season finished, he's been bringing his own players and staff in. And I was incredibly impressed when he signed up Zander Diamond in defence. Over the last three seasons Burton have had problems with a leaky defence, and I think Diamond seems like a big leader who can play a big part in sorting that. And he's still in his late 20s. Marcus Holness who we've signed from Rochdale seems decent too, despite being built like an overweight Sunday League player.
I am feeling confident we will be in a comfortable mid table position with the squad Rowett's building. It would be extremely disappointed if we find ourselves battling relegation for the third season running. Last season, we flirted with the playoffs a fair bit in the first half of the season, which shows what we are capable of; but then went on that shocking run and nosedived down the league which was depressing. I hope that kind of thing doesn't happen again. I think we'll finish in the top 14 of what is now a very tough league with some big clubs in.
There's a fair few good games I'm looking forward to, despite so many long midweek away games. I'm looking forward to these three the most – a weekender in Torquay when we play them on September 22nd will be brilliant, with many other Brewers staying over; Rotherham away on opening day will be a great occasion because it's the first league game at their new stadium and Gillingham at home on the final day because it's the date of my dad's birthday.
6th in League Two – "Pride, Heartbreak, Wembley"
Summerfield has gone to Shrewsbury, we've bought Deering in from Barnet but not sure how well he could play a central midfield role-in a midfield two with Pack or Penn, see him more as an attacking midfielder maybe at the top of a diamond.
I think we should expect play-offs at a minimum. We've only lost one player we didn't want to lose, the others (Low, Lewis and Smikle) were all released and were really squad players. However the league is very strong-so I'd be happy with a play off place as long as we make it count this time.
I'm mostly looking forward to the ones local to me because of where I live; Northampton for example. I'm also looking forward to York because a lot of my family live there and other games where I'd get to see my favourite twitter followers, such as Barnet away.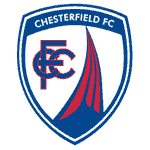 22nd in League One – "Disappointing, underperformed, unbelievable"
The club released ten player including our longest serving at the time, Derek Niven and a key player in Gregor Robertson who was a good defender for us but struggled a lot with injury over the past few seasons. So far during the summer break we have made five signings and we have promoted three youngsters from the youth team. To replace defenders Gregor Robertson and Simon Ford we have brought in Sam Hird from Doncaster Rovers who will be our new captain for the new season and Terrell Forbes, former Leyton Orient defender to improve our defence overall. We've also signed former Scunthorpe midfielder Sam Togwell who is very experienced and will prove to be an important asset within the team. The most exciting signing that Chesterfield has made this summer for me has to be Marc Richards from Port Vale who is a proven goal scorer at League Two level scoring 15+ goals for Port Vale in previous seasons. Richard O'Donnell is a goalkeeper which we have signed from Sheffield Wednesday who will challenge current Goalkeeper Tommy Lee for a place in the starting line-up.
After the disappointment of not being able to stay a League One club the fans expect a strong season ending in promotion come next May. I predict that Chesterfield will finish 5th and hopefully we can achieve promotion through the playoffs. The fans expect to bounce straight back to League One at the first time of asking however League Two is looking very strong next season and this will be a very difficult ask.
I am looking forward to Plymouth away because it is a new ground for me and it should be a very good day out, perhaps even make a weekend of it if the weather is nice. Rotherham away is also a match I am looking forward to most because it is a brand new stadium and Rotherham is close to Chesterfield therefore we will take a lot of fans and hopefully create a very loud atmosphere. Finally I am also looking forward to Fleetwood away which is scheduled to be our last away match of the season. This will be a very tough match as both teams should be at the top end of the table still pushing for promotion if nothing has been decided by this point. A weekend in Blackpool is also too good to turn down.
19th in League Two – "Disappointing and injury-ravaged"
We've lost a wealth of experience in Mark Arber, Peter Gain and Jon Nurse along with Damien McCrory – however that was necessary in order to stay sustainable. The acquisition of Gavin Hoyte looks to be a good one from what I've seen so far though, he's a very quick and energetic player. I expect the likes of Mickey Spillane, Billy Bingham and Brian Woodall/Dwight Gayle to perform well in the coming season, they're young and will be looking to build on their last campaigns.
I'd be more than happy with a mid table season to be quite honest, although I can realistically see us pushing towards a play-off place should everything come together and we avoid a mass of injuries this year. I'd take a punt at a nice mediocre 10th at this current stage.
I'm quite looking forward to Barnet and Southend as they're two of the more local games. For a new ground though I'm quite excited about visiting Bootham Crescent as it seems quite old fashioned – I like a ground with a bit of personality to it!
23rd in League One – "Not good enough"
We've lost several players with our player of the year, Troy Archibald-Henville being sold to Swindon. Others we lost include: Daniel Nardiello, David noble, James Dunne and Richard Duffy who all took better offers at other clubs. Despite losing these players we look to have signed some adequate replacements – Kevin Mmankwaah, an experienced right back. We've also signed defenders: Craig Woodman and Pat Baldwin, and midfielders Tommy Doherty and Arron Davies, all who have a wealth of experience at this level and higher.
At the end of the season and the loss of several players I wasn't feeling confident, but with the squad Paul Tisdale has assembled so far I'm feeling quietly optimistic for the new season. I think we can manage a top half table finish, even the playoffs.
It's no real surprise to the game I'm most looking forward to – the renewal of our rivalry with Plymouth Argyle. There's nothing like a derby game and I'm looking forward to our game at Christmas and the trip to Home Park near the end of the season.
1st in Blue Square Premier – "Unbelievable, exciting, nerve-racking"
We lost Jamie Vardy, the greatest ever player to play for Fleetwood Town. I have never seen a player like him; 34 goals and a load of assists. Quick, agile and an eye for goal, he's now applying his trade in the Championship. He was key to our promotion campaign last season. I think the signing that will replace him is David Ball. He has already cut it in the Championship, he is sharp and can certainly finish as he has already proved pre-season. We have made a lot of signings and every single one looks promising so I expect them all to stand out come competitive matches.
With the current squad I fully expect us to gain promotion to League One. We have higher-league experience in the team and we are a club that like to push forward forever aiming high. I can see us securing at least a promotion place and hopefully we will do the business and then be in League One.
The games I'm looking most forward to have to be Morecambe and Accrington Stanley home and away. I absolutely love derby games and I am fully looking forward to them. I think they will be well battled matches and hopefully we'll come out on top in each.