So it was the final day of the 2011-12 campaign and with our League status still firmly in the balance, why the hell wouldn't I be going to Burton Albion to see if we could manage the 'great escape' for a third consecutive season? I had never been to the Pirelli, so it was also another ground to tick off – but, let's be honest, there was no way I missing this one! And how glad am I that I didn't?
8:30am –
despite setting my alarm for 8:50 with the appropriate title 'Survival Saturday – foooootbaaaawll', I woke up earlier; largely down to the fact I couldn't sleep due to a mixture of nerves and excitement! I had been awake previously at around 6, when I felt sick – it felt as if all my insides were in my mouth! On one hand, I was absolutely buzzing for the day ahead, but a part of me also felt anxious. I got ready, making sure my bag was packed and I had enough money and all of my train tickets – six of them – before having beans on toast, for breakfast.
9:50 am –
I left home for Shenfield station, my mum (again!) being the one up early to drop me off. I had to collect my ticket across London beforehand, as I had pre-booked it, but there was no chance of me paying an extra £4.95 to have it posted (are the rail company having a laugh!?). With trains running regularly to Liverpool Street, I didn't have long to wait before catching the train.
10:08 am –
after missing one train by a matter of seconds, I caught the fast train, which only stopped at Stratford. I made quite good timing, arriving at Liverpool Street within 25 minutes or so. Although the train itself wasn't that busy, and most people got off at Stratford, Liverpool Street was already heaving! I'd heard the Northern Line wasn't running and there were a number of problems and delays with our services, with a lot of people standing around in confusion. I took the Metropolitan Line to King's Cross, before arriving at Euston on the Victoria Line.
11:03 am –
arriving at Euston 10-15 minutes prior to the departure of the train, I met up with James and Jack, before buying food and fanta. Unfortunately, there was a mix-up with the booking of the tickets and with a ticket inspector carefully guarding the train ready to leave; I jumped on the 11:03 alone, whilst the other two waited around for theirs – the 11:23. The journey, despite only being an hour and a half, was boring – my iPod battery ran out within 20 minutes, and although I had packed my phone charger, there wasn't much to do. To keep myself entertained, I shoved an entire box of Daim Mikado in my mouth, much to the amusement of the man opposite me, and as soon as the clock reached midday I treated myself to an archers and lemonade!
12:28 pm –
I arrived at Birmingham New Street after stops at Rugby, Coventry and Birmingham International. The train to Burton-on-Trent ended up being delayed by five minutes, and the platform was packed – I caught glimpse of a handful of Bees' fans, and a massive hen party heading to Nottingham really stood out from the crowd, with their pink feather boas, and general noise! I met-up with the boys again on the train, and with there being no seats in the carriage, we sat in first class – jumping up when the ticket inspector arrived. We managed to get seats and a table, after he let the hen party go in the empty first class area – they were quite a bizarre group, the majority in their late 20s and 30s, and then a token girl who looked about 15! The train to Burton was no longer than half an hour, and more drinks were consumed.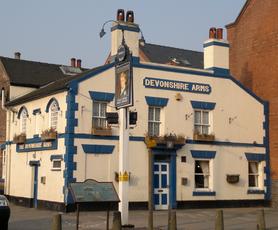 1:18 pm –
on arrival at Burton station, rumour had it a lot of Barnet fans were already at the Devonshire Arms pub, a five minute walk away. Despite it being a rather small and generally pokey establishment, there were a decent number of travelling fans there, all in good voice and spirits. As soon as we set foot inside, there were songs being sung, and plenty of empty glasses and bottles! But then again, who could blame them – you can't go wrong with a bottle of Bud and a Malibu + coke for £4.20! We definitely created an atmosphere in there – much to the clear annoyance of what looked like a mother and son bar team! The police later on arrived to a chant of "Oh, Old Bill we love you" – although as soon as they left, the 'love' was soon changed to 'hate'.
2:40 pm –
we were one of the last to leave the pub, with groups of people coming and going when taxis arrived, and we arrived at the Pirelli Stadium within 10 minutes of kick-off. I managed to pay student admission costing me £12 for the terrace; although I wish I had tried to blag an under-18 at only £4 – bargain! I was slightly disappointed there were no paper tickets, but never mind… the terrace itself was absolutely packed with very little standing room, so I placed myself at the back, next to the aisle, ignoring the people that told me I "can't stand there".
Match report will appear soon
5:00 pm –
after the match, the majority of fans stayed behind giving the team continuous support. The players came over to where we were behind the goal, to applaud us and vice versa, before returning to the dressing room. The Burton players then came out, but it was short-lived, as many of their fans had long gone. After some chanting for the Barnet players to return, they did – with cameras and reporters getting involved, I assume covering Monday's Late Kick Off show. We must have stayed in the ground for a good 25 minutes, just taking it what we had just witnessed, before going back to the station – the singing continuing all the way!
5:49 pm –
we left Burton station and were heading back to Birmingham for the changeover. A large group got off at Tamworth to head for a pub they previously frequented in the day and despite getting off myself, I quickly changed my mind as didn't really fancy travelling back later – especially across London at 11pm or so! So two of us got the train from Tamworth to Euston, via Birmingham New Street.
7:49 pm –
after arriving at Euston, I made my own way back to Liverpool Street – as everyone was heading for North London. After following the same route back as I took in the morning, I got the 8:35 train from Liverpool Street to Southend Victoria, stopping at Stratford, before getting off at Shenfield. Both the tube and over ground train were packed with Chelsea and Liverpool supporters fresh from Wembley and there were some Essex Liverpool 'fans' opposite me on the train home. I must admit I felt a bit bad constantly staring and grinning at them, but I was still absolutely buzzing! I got home just after 9, where I excitedly waited for the Football League Show – of course, their coverage was like any other week: shocking!
We are Barnet – we'll never go down!